Ahasanur Rahman Ashiq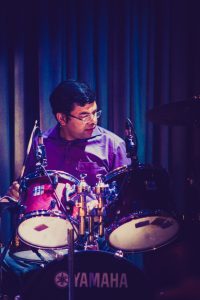 I was born in Bagerhat , along the Banks of Rupsha river . It is situated in the beautiful town of Khulna. My schooling started from St Josef school, then a stint in Shundorban College and later in B.L. College Khulna. There was a deep appreciation for music in the family as my kid sister was already taking music lessons . Out of sheer curiosity I would try to play with the table and within a short while found myself somehow being able to play it. Words got around and I was invited to play for various musical functions around the area. Five years went by , and I started playing for different styles of music. Sometimes for classical, sometimes for Tagore or Nazrul, Lalon, Jari Shari, Bhatiali, Dehotattok in fact I ventured from contemporary to various folk to classical musical styles.
Towards the end of eighties I was introduced to a different type of music from an audio shop . "Dristi Prodip Jeley" and "Sraboner Megh" was being played loud, it felt very different from the music I was exposed to . I paused and listened for a while, it swept me away to a different beautiful world , this was my first love. Yes I fell in love with Band music. I decided to pursue this particular music . Later in joining college I got hold of few like minded friends to create a Band. Each of us had to choose a particular instrument , as a table player and as I was bigger in size, I chose the drums. Needless to say that the best looking one amongst us chose the singing microphone.
I proposed to the house hold that I needed to purchase a Drum set. My dad spontaneously said sure , "go to Shib Bari corner and buy one" . In fact that place were famous for sales of oil drums . Any way as he was explained that it was actually musical drums kit, I was placed in the firing range of thousands of sharp questions. Dad felt that this was indeed the beginning of end of his only son's future. After a whole lot of explanations and promises he agreed. Need to mention here that there was a jack of all trades some Yealip Chowdhury bhai , a senior brother of the area, who was a part time electrician, a part time Tabla player, etcetera, etcetera, and so forth. There were probably nothing in the world he could not do or would not do. He was a friend , philosopher and guide us all.
He being known to a Guitarist called 'Rocket ' who he had briefly encountered in Bangladesh Modern Music Academy, went to the length in contacting him to achieve information on drums kit for sale. Finally a seven piece drum kit titled 'Melody' was purchased from Melody musical instrument shop for BDT 7,500/- and returned to Khulna.
I then started by quest of learning how to play the drums. He picked out the famous Zahed Hasan Babu a handsome gentleman who could play all instruments, Drums, Guitar & Keyboards. I am not left handed but since I unorthodoxly had started playing the tabla with my left hand in absence of a proper teacher, my playing the drums was no exception, following the same track I became a left handed drummer. My Ustad gave me 7 lessons in 7 days and declared that he had taught me all he knew about playing the drums. I would have to walk rest of the path alone . Few days went by and one day he proposed me to play the drums while he played the guitar. Guess he was looking for a Jam buddy. This helped me a good deal as I started gaining confidence . I got introduced to Sargam Accademy of Farajipara where I encountered few inspired budding musicians, of course like me they ware out to conquer. We decided that we needed to express our musical ability , we shall play for an audience who would have to buy ticket to get to enjoy the show. The venue was selected, non other but the famous Khulna Zia Hall. We got down to practice and after tiresome weeks finally on 1993, 10th of June we could play for the first maiden concert of our life . After the concert a new fan came running towards me and offered me a five taka note, uttering " this is all I could spare , I shall be happy if you accept it as a token of appreciation " . I gladly accepted and have preserved it till today.
There was a local band in Khulna called Memento. They would regularly perform covers of Bhatiali, Bhawaiya, and folk. They invited us to join them . My Ustad and myself agreed to join with a condition that band's name will have to change to 'Winsome' . They agreed and we commenced our new journey with Winsome. We performed with this band from 1993 to 1999. My first love became more steady and we went on performing covers of Souls, LRB, Feedback, Renaissa and Winning's numbers. But all along my indulgence to education carried on and finally could managed to graduate. Then on 1999 came the declaration of "BNH STAR SEARCH". I came to Dhaka for the primary audition and was fortunately selected. I felt I was in top of the world and touching the moon of my dreams. Giving the audition in front of the Rock Legends of Bangladesh inspired me and boosted my self esteem. Seemed my training of music in the hick town of Bangladesh was not bad after all.
The fateful day arrived it was May 2000, right after the turn of millennium. I was sweating profusely in spite of blasting AC as Partha da came to me and started inquiring to me about myself, how, what, why and so on. He impulsively declared the Souls are were looking for a fresh drummer and that he wished that I would play in Souls. I was awe struck and dump folded , heart pounding against my chest, I felt that I would have an instant heart attack. But heard myself uttering " I cannot commit anything before I speak to Mom and Dad". My answer did take him by surprise but he smiled and said "let me know as soon as possible" . I asked him further am I eligible to serve your purpose? He replied , " I need a good human being, creating a good musician is my responsibility." Till today I feel the wisdom behind the words, and try to uphold it, to the utmost.
I felt my head was blank . I was thinking last seven years I did have a subliminal dream to play in a big Band and finally this dream is about to come true. I knew bad news spreads like wild fire but in some cases good news metaphors into lightning itself . Even before as my shaky legs descended down the stairs and landed on the ground , the news had travelled right across the Padma river to the town of Khulna.
As I returned to Khulna I learned that I was about to become a star. I was entertained by all my peers , my family , friends and acquaintances. I was humbled , I raised my hands to Al Mighty in prayers thanking him of the grace showered and prayed to keep my feet on the ground. The training started , I had to regularly travel to and fro between Khulna and Dhaka for practice. Playing the drums in Khula some what had given me a false feeling of know-it-all , but the first day of practice with Souls' taught me that I knew nothing, I was de constructed to the point of ZERO. I had to start training from base. It was 30th of June 2000, my first performance with Souls in Dhaka Club. I barely managed to keep up with the highly skilled musicians of Souls. I have travelled a long way till today , one decade and eight years to be precise .
Some say SOULS is a band , I say it's an institution, if some says again it's a band I will correct it's "a guidance a family." The time when one finishes his studies and joins a job , I had held the hands of Partha Da and joined the band. Even being the only son of the family I had chosen an opposite profession on contrary to general ones. I believe if your goal is set , you can make your destiny from any stage.
2006 , I enrolled myself in MBA class and took my MBA degree by paying the dues from my earnings in Souls' . 2008 , I suddenly got a job in Apollo hospital . Years of multitasking between job and concert has proved to me that anything is possible if the passion is right. I would give this credit to my contemporaries and seniors in Souls specially Partha Da.
I have achieved immensely in being with Souls. Travelled half of the world meeting and playing with legends of music have taken my experience in different dimension.
My travel with Souls is truly a pleasure.