Meer Shahriar Hussain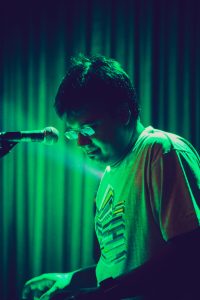 I am Meer Shahriar Hussain, like to call myself Meer Masum. I was born in 1981, January 14th at Atpara, a small place in Netrokona. Although my hometown is Munshiganj. As my father used to work for the government we had to move from place to place till finally my parents made their home in Savar.
While in Netrokona, I had started training on traditional and classical music at a very early age from my guruji Sri Harimohan Debnath. I continued training from him till I finished my primary and secondary school. After finishing school, we moved to Savar due to my father's transfer, where I got myself admitted to Jahangir Nagar University collage. In 1998, my uncle residing in Singapore brought me a keyboard, Casio CTK 100 which was the first time I had my very own musical instrument. I fell in love with this instrument and started playing with it till finally I could manage to play it musically. Soon I was invited to perform on stages. From childhood I had a strong urge to be a composer and a professional keyboard player. Following my dream, I started playing in sessions. I got lucky to get part in different gigs & sessions since I could blend easily, it made it easier for me to play to various types of music.
While playing in a studio one day, I happened to meet the then guitarist of the renowned band "Souls" Sohel, who also happened to be my relative. I inquired if they needed any keyboardist in souls, because I knew they their keyboard player had left for USA and was on the look out for a promising one. He listened to me and went back home. The next day he called me asking if I wanted to play for souls. I was thrilled and found myself saying , "of course, why not"? He invited me to souls' studio with my keyboard in the morning where Partha da would would take my audition . The next day I went there accordingly and waited the whole day for partha da, but he didn't show up. I came back to savar and went back again the next morning. I waited till afternoon. I learned later that partha da's morning starts from 3 o' clock at afternoon! Finally Partha da came and asked me a few questions about how I play, where I used to play, which keyboard I play etc. He told me that he was running late for something so I would have to come back again. I said okay and came back home. Again, another day, I went to the doorstep of souls and finally had a chance to meet all the other members of souls and play in front of them. There was a small practice room in souls studio where I was told to set my keyboard and asked to play any song of souls. I told Partha da that I could play 'shara din tomay bhebe' and he said that this song was not a souls', this was a cover. He asked me if I knew the chords of sharadin tomay bhebe and I said, "yes I know the chord, it starts with D". As I played the chord, he said, " your keyboard is detuned"! I was really surprised to hear that. I never heard of a keyboard going out pitch. So I checked everything in my keyboard and told dada that it was fine. He gave me a little smile and brought a guitar tuner and plucked that tuner with the keyboard. And to my utter surprise, I saw the tuner is clearly showing that my keyboard is out of tune! My actual learning started that day I realized. As my journey began with souls, I eventually learned things from partha da and every other members of souls of how to cope up with the band and skills that was needed to play with the band. I could feel my improvements that later on helped in my own music composition. From 2009 I left souls briefly for own personal issue to come back again in 2010. During this period, I was able to pursue my solo career as a composer and worked with various artists, composed songs for them and explored different arena of music. It was a striving time of learning and seeking new arena of music. My search for new music added flavor to my personal skills and attitude and was a richer musician, as I finally started plying for Souls again. My association with souls have given me a lifetime of experiences and till this date I feel like I'm always on the run to learn something new. I have been and always will be with souls if souls want me to. As for now, the journey continues…