Naseem Ali Khan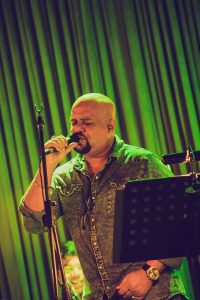 As I sit down to write, "memories seems to come from faraway, like a flowing stream , picks at my heart and soul, so lets do it again" it is today's opening line and yes! this is a line from our song , the song of today.
I am Naseem Ali Khan, the longest running member of Souls. Born in Chittagong in early sixties to a family of six brothers and sisters . Reflecting on the treasure my memories, I find that the basket holding my memories before I had join Souls is over powered by the basket holding memories of my journey with Souls. I joined the band in early 20s and presently I am towards the late fifties.
My childhood memories are filled with carefree days of games, Art and music which was cherished in my household. Painting was my first passion, which was appreciated by my family and friends. I spent most of my spare moments in the classroom of Saint Placid School sketching on every surface I could get my hands on and at home enjoying music from the record players blaring loud from my elder brother's rooms. I regularly participated in inter and intra school Art competitions winning prices . Soon I was recognized as the school's carefree wild artist . 70's era, my mid school days memories were filled with concerts of bands. There was 'Lightning's' from Chittagong who played covers of Rock n Roll , Azam Khan's Uchhoron, and Spondhon starring Ferdous Wahed from Dhaka. I never missed a chance to be in their concerts in Chittagong or Dhaka.
My brothers friends had a couple of bands practising very near to our house where I used to be a wide eyed spectator . One of the bands became my favourite who would play in gigs, covers of Bangla as well as English Rock. I was awe struck by a particular keyboard player of one of the bands . One day after their practice session he asked me if I could sing, as he had noticed me crooning to their music from far. I said yes, and added if I could jam with them a cover which I loved , "living next door to Alice" by Smokies. While singing I was thrilled to noticed their appreciation on their faces. Later I was asked by this wonderful man to join them in a gig. This man was Naqib Uddin Khan and the band was Souls. Later Naqib bhai asked me to fill in as an English cover singer for Souls for a few gigs. I soon started regular practice with this band as a guest artist.
As I was not a regular member of this band , I formed a band with few of my friends . We were in an age of hippies and flower child movement . The country had just achieved independence , the post war phenomena had curved our attitude , we were revolutionists without a reason. The concert for Bangladesh and the wood stock festival had a tremendous impact on the young . We echoed the gallantry of the peace revolution world wide. We named our maiden band " Nut Crackers" . My fellow members were Shantu, Billu & Babu.
I was in class 10 commerce , our school was to celebrate Pohela Boishakh . Our principle declared an unique idea , he asked the boys from class 7 to class 10 to decorate or set their particular classes into respective stalls in performing Tagore, Nazrul or painting or Just floral art work. The idea was, the class which would attract most viewership would win a prize. I came up with a radical idea of having a POP SHOW in our class room where our band "The Nut Crackers" would perform. Pohela Boishakh arrived , the band's stage was set . The sound of drums and bass attracted boys from the whole school and girls from Saint Scholastics, (the girl's wing) at our door step. We felt like the "Pied pipers of Hamelin" . The performance fever had struck and there was no stopping. Towards the end of seventies I fell in love with Michael Jackson and Leo Sayers both for their music and their Hairdo, the Afro Hair cut. I discovered that by using static electricity that's created by rubbing my hair in circles with dry towel, actually made my hair curly. Then I would use the hair pick to shape it up.
I soon befriended Ayub Bachhu and Kumar Bishwajit , who asked me and my buddy Billu who was a sharp lead guitar player for a concert in a ship . It so happened that Bachhu was the arranger for the show. We found out that ship was called "United Vangard" but was placed out in the outer anchorage of the bay of Bengal. We all had to travel by a tug boat to reach the ship. I was promised that we would return late that very night but not the next day. I left without informing my parents as I knew the answer would be no. The concert was joyful and merry but music could be hardly heard , drowned by roar of the sea. It was quite a windy night. After the show, the captain made arrangements for us to stay on board for the night . My heart sank. It was in days of minimum communication no telephone connect, no cell phone, no I-pad nor lap top. There was no way I could inform my family that I would not be back home that night. Viewing my anxiety the radio operator came to assistance , as he learned that my dad had a shipping company, he radioed the harbour master's office, who called up our office to wake up our office pion to inform my residence of my where about. The news had reached our parents in the wee hours of the morning.
Next noon as I had entered the house, I was met with fire and ice . Fire from my dad and ice from my mom. I almost had my Afro hair shaved to the skin by dad's wrath, a napith was summoned and was ready with his lethal tools. Hands of Al mighty took over and my Afro Hairdo was saved by the mercy plea of my dear mother. The narrow escape and my near death experience of my Afro hairdo, had perhaps made me somewhat more responsible.
Kumar Bishwajit was a budding singer who could also play the keyboard , we formed yet another band called 'Reeds' which did not last, later formed 'Feelings' with sons of Manik Chary Raja, who owned a hoard of brand new musical instruments to our delight. A year later Naqib bhai invited me to join the band Souls as a permanent member, mainly to perform English Rock n Roll cover. I gladly accepted.
It was February 1980, I had started my new journey with Souls. The new kid in town with a striking Afro hairdo. The band would regularly play in the 7th floor of Hotel Agrabad every Saturday night where mostly expatriates would lounge.
One night when I had come back from Saturday night gig, my father summoned me to his room. He flatly ordered , "chose between your band and your family, I will give a paper declaration to disown you." I was shattered , there were no option but to leave home to take refuge in a friend's house and lie low till the heat subsides. My grand father was there and on hearing the news called me back home for a dialog. He said "I can sought things out with your father if you promise to keep four covenants. "
They were –
1. You have to carry on with your education till you achieve Master degree.
2. Music will be a labour of love but not prime profession.
3. You must join your father's business for at least 5 years.
4. You will not defame your family by any of your actions.
I accepted all conditions and my dear grand father over ruled my father's command.
My grand father was a man of strict religious principles. I had never known him to miss a single daily prayers which includes Tahajjath & Zikir before Fajr . He shaped my thoughts and taught me that music is a powerful medium. It can be haram , neutral or act of piety depending on the intention of the music portrayed. Getting the green signal I happily went ahead to pursue my dream.
7th Floor of hotel Agrabad was a luxurious lounge where we practiced in most mornings . One day I had entered the lounge for practice and Naqib bhai was playing a catchy composition on the keyboard with Ayyub Bachhu strumming on his guitar . When asked he replied it was his own composition and that he was planning an album for the band . We were all thrilled by the idea and set to work. After a year of hard practice we cut the first album of Souls titled " Super Souls" . " Super Souls" became an instant hit and we found ourselves performing for larger audiences in schools & colleges, concerts in prestigious venues like Shilpa Kala Academy promoted by the director of the Academy himself, Mr. Bulbul. BTV also contributed largely for success of Souls where progressive producers like Riaz-uddin Badshah and Feroze Ahmed arranged for us performances in peak time in the only National Media .
80's were my the eventful years in SOULS when the band achieved their towering popularity. I found that though my presence in singing popular English covers in concerts were large and desired by audience, my participation in albums were negligible as I could not perform in Bangla. I was determined to get into the main stream of Bangla rock and cut a solo album signed "Naseem Ali Khan". The album had multiple hits , " Jotin Sirer Classey , Ogochalo, Pothey Jete Jete, Kolahol. The album was appreciated by the mass audience and I could established myself as vocals in the main stream band musical arena.
The glory was short lived for Souls as during mid 80's Naqib Uddin Khan left the band to pursue higher education shifting to the capital followed by Ayub Bachhu and Tapan Chowdhury who left to pursue their own preferred musical career. We were left without our established composers and one of the main stream vocals. Towards the end of the 80's decade Partha Barua joined the band.
Souls were left with only myself and Partha . We felt the need to come back with new songs and fresh music to be accepted by fans. We picked up the pieces and started planning . My Afro shrank in volume to straighten out in edges, we invited promising musicians from Chittagong to be in the band. As hard work and passion are always rewarded, in 1993 we released our 5th Album "Ay Amon Porichoy" .
We were now faced with the massive task of keeping up to the fans expectation. We did not loose hope but filled with new strength and aspiration released our fateful album "Aj din Katuk Ganey". This album set the sails again for us , the album was not only a blockbuster but was again successful in creating a new dimension to Souls' music. Concerts were now in the stadiums and open air venues where audience attendance went up to fifty thousands and over, the climate was set for rock festivals where many other bands joined the shows. The vocals for the band now were Partha & Myself we played and sang on to glory sailing steady into the change of the millennium. In came in Ashiq and Masum followed by Real, releasing eight more successful albums. On 2013, I went to perform Hajj and decided on sacrificing my thinning hair totally, now I am a skin head with a French cut . Presently we have worked on, on a new album but waiting for a proper time to release it.
I cherish the memories of my associates of the late seventies & eighties , the budding days of SOULS, some whose hands I had held to start the voyage. I cherish the memories of my associates of the nineties who helped to sail the rocking ship of SOULS through the trouble waters . Most of all I cherish and love my present day members who are with me for the longest the period of time and who has fused their dreams to uphold the glory of SOULS , some of who are with me for more than two decades and striving still…….as I had once uttered " we are travellers of time, seeking melody to quench our thirst " My Afro is long gone , but it's memories lingers on.
– Naseem Ali Khan